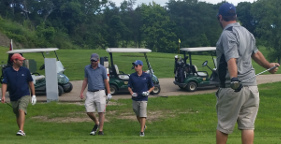 Saturday, August 20, 2016 at The Woodlands Golf Course Godfrey, Illinois
On Saturday, August 20, 2016, a group of intrepid young men ventured to the far off land of Godfrey, Illinois, to compete in an event that has become legendary in it's ridiculousness – the NINO MEMORIAL. On this date, which marked the 17th playing of the tournament, six players arrived ready to play for the jackets, including four former champions with a multitude of honors between them. And, of course, Nino brought his ringer.

There was no home course advantage as none of the players had ever been to this course, and it showed as the match was tight for the first several holes. The team of Brett "Noodles" Bunsick and Phil "CHiP" Ruben started hot, playing well through the first five holes and firmly in the running early. Jaeson "Nino" Becker and Evan "The Ringer" Glass started slow, suffering a lost ball on the first hole. The team of Tim "Toolman" Boyer and Tim "Eagleglass" Spiegelglass could not take advantage, however, starting slowing themselves and making sure that, a third of a way through the round, it was still anybody's game.

It was at that point that that the team of Nino and Glass started to pull away, playing several strong holes and pulling away from the pack. Despite a fine shot that won him the closest to the pin challenge, Toolman couldn't keep up with the pace set by Glass, and neither could Eagleglass. Noodles and CHiP couldn't maintain the pace, falling significantly back, but always maintaining a positive attitude and embodying the true spirit of the Nino Memorial.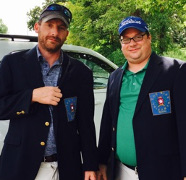 Then, around the 14th hole, something happened. Eagleglass and Toolman, down four shots, started to make things happen. The picked up a stroke on the 14th hold. The picked up two in the 16th hole. They picked up a stroke on 17th, and we went to the 18th tee box with Eagleglass and Toolman tied with Nino and Glass. Beads of sweat poured down Nino's face as he felt the jacket slipping from his hands.

But, alas, the epic comeback would not be completed. Nino's Ringer hit an incredible drive right down the middle of the fairway, put his second shot close, and closed out the match when Eagleglass and Toolman couldn't hit the shots they needed. Glass was the true MVP of the day, winning the long drive and carrying Nino on his back for the whole round, including singlehandedly putting the match away on 18. As the jackets were slid on the shoulders of the champions, the other competitors were left only with thoughts of what could have been.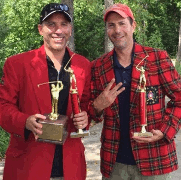 A rousing ceremony was held in the parking lot of the Woodlands Golf Club & Banquet Facility parking lot, where a lot of inane prizes were handed out, and where Nino revealed the new "Decader" jackets, a nice touch to a fine event. Faces were stuffed with shrimp and meat at Fast Eddies Bonair for the celebratory banquet, as Nino once again overestimated the amount of popcorn that was desired by the competitors.

Where does the Nino Memorial go from here? It's difficult to say. I know that this author longs to take the tournament back on the road to truly get back to the shenanigans that the NM is known for. How about NM Denver, 2017?

tb