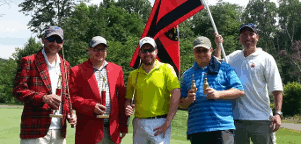 Saturday, June 21, 2014 at Quail Chase Golf Club Louisville, Kentucky
It was early on a Thursday morning when the Denali rolled up to a house in St. Louis, where three Nino Memorial stalwarts prepared for the trip to Louisville for NM 15. The NM had suffered much disarray with many former players not attending, including Denmark (who, in his defense, had indicated this was a bad weekend months prior), Smailz (who continued to tell Nino that he may be able to attend until the final week, when he simply refused to respond to Nino's texts and emails), Sanger and Cap'n (who had attended Sanger's bachelor party in NOLA the week before), and the Hoffman brothers, each of whom had committed to attend only to withdraw within 48 hours of leaving.

Despite all of this, Nino, Eaglegless and Toolman, with 36 NMs attended between the three of them, set off for what would go down as an epic weekend in Louisville. With a starting point of what can only be described as the classiest hotel in Clarksville Indiana, the 3 went on a three day binge that included Kobe Steak House, golf, horse racing, debauchery, alcohol, extracurriculars, shady cab drivers, and questionable encounters with those less fortunate. A highlight of the weekend was a trip to Churchill Downs, home of the Kentucky Derby, where Eagleglass will angrily tell you that he did not win a single bet, despite much effort.

The weekend culminated in the playing of NM 15 at Quail Chase Golf Course. When the players arrived, they were informed that, in no uncertain terms, the golf course was in "horrendous" condition due to a re-sprigging of the fairways, and those coming off the course described it as "unplayable" and "not golf." Despite these conditions, and quite frankly with nowhere else to go, the tournament went on. The conditions were clearly the worst and most difficult playing conditions in the history of the NM.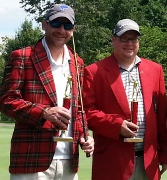 Eagleglass and Toolman played as partners, much to the chagrin of Nino, a decision the two had made months prior to the tournament. Out of generosity, the two allowed the rest of the field, consisting of Nino, Lucas, and Ruben the Younger, to play as a 3 man team. Competition was fierce, with Eagleglass and Toolman making mostly pars and the 3-man team struggling with their short game - constantly flirting with par but never converting. Eagleglass won the closest to the pin on #6, and after 9 holes the Eagleglass/Toolman team had an 8 stroke lead.

In the spirit of the NM, at the turn Eagleglass and Toolman spotted the 3-man team all 8 strokes of their lead, making it a new race on the back 9. The 3 man team, alas, could not hold it together, with Nino's game falling apart and Ruben the Younger growing so frustrated that he refused to even take a shot at times. Despite Lucas winning the long drive with a bomb on 10th hole, the 3 man team lost the back 9 by six strokes.

The Toolman/Eagleglass team played strong team golf all day, constantly picking each other up, and finishing with birdies on 17 and 18 to shoot an even par round of 72 which, given the conditions, was likely good enough to win regardless of the competition. The 3-man team struggled to a 14-over par 86.Much celebrating was had the evening after the tournament, as Nathan and Rocco from St. Louis joined the celebration, and the group discovered a bar with a deal of a bottle of PBR and a shot of Beam for $5. This led to much rejoicing for the group. Hopefully the rejoicing will be shared with more players next year.

tb