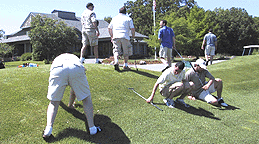 Saturday, June 3, 2006 at Innsbrook Resort Golf Course Wright City, Missouri.
Nino Memorial 7, as with the prior Nino Memorial weekends, was a rousing success. For the first time, the event was held at the same place (Innsbrook) as the year prior. Although plans have been made for an out of town NM8 to mix things up, Innsbrook was the perfect setting for golf, comradery, and debauchery.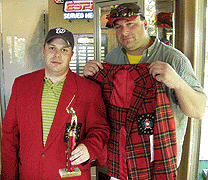 Like 2005, Jonboy and Chelist ran away with this year's spoils. Playing with a randomly assigned twosome, one not associated with the Nino Memorial, the odd duo was not troubled by the taunting, poor play, and other distractions that plague the typical tournament pairing. Able to focus on their games, they shot a 73, tying the previous low score set by Toolman and Dusty in 2004. Finishing second was the team of Spiegelglass and Berman. Their 76 was respectable, and the tough team could have proven victorious had it not been for the superior play of the two-time champs. Finishing 3rd were Dusty and Toolman who once again were more bark than bite.

From 4th place on, the scores rose significantly. In the spirit of decency, the identities of those lower tiered teams and their scores will be withheld. Nonetheless, there were several improved players who graced the Nino Memorial. Specifically, Luger and Radar shot in the mid-80s, and could be a dark horse for 2008. The southpaw, Gus, also showed some prowess (albeit sporadic) from the tee box.

The evening of NM7 was also a good time. Jonboy's cooking started things off right and Denmark continued to take the lead on letting the good times roll. Needless to say, trousers were soiled, grinding was had, and the scent of baby powder and FDS permeated the wooden cottage.
dh