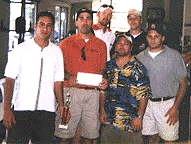 Monday, May 29, 2000 at The Chesterfield Golf Course.
(AP) While many across America were leisurely enjoying their days off with barbeques and summer pool openings, six young men ventured out to the beautiful and sprawling Chesterfield Golf Course for the First Annual Nino Memorial. Three teams competed in a scramble tournament: Opy aka David Duval and Luger aka Scott Masin, Smailz aka Jeff Small and Dusty aka David Hoffman, and Traubio aka Michael Traub and Nino aka Jaeson Becker. The competition was fierce, the tobacco use was even fiercer.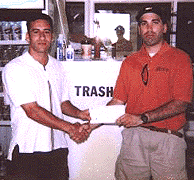 The first nine holes saw Nino's team jump out to an early lead, shooting a 37. Although Smailz and Dusty stood tall, except for two double bogeys on the seventh and eighth holes, they proved to be no match for Traubio and his long putts. Opy and Luger, needless to say, sucked it up BIG TIME, parring the first hole and following it up with a ten on the par three number two hole. This was merely the beginning of a hack-ridden day by the dynamic duo of shame. Smailz and Dusty pulled within three shots of the lead on the 15th, parring the par three monster, while Nino's team double-bogeyed the undulating green. Although hope was in sight, Dusty's subsequent tee shot, although crushed, was not found. Some suspect that the same goose he hit earlier in the rear (no shit, by the way) scooped it up and dumped it on River Bend Drive. In the end, Nino's team won with an 82, Dusty's squad fell with an 86, and Luger's team just had not shot all along concluding a miserable Memorial round of 94.
While satisfied with their victory, Nino and Traubio look for a larger group of competition as they defend their title in 2001.
dh