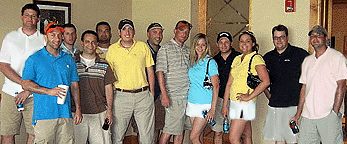 Saturday, May 31, 2008 at Shoal Creek Golf Course Kansas City, MO
KANSAS CITY, Mo. - The tartan arrived here on Friday a St. Louis tradition nearing a decade of excellence. By Sunday, the Nino Memorial trophy was just another monument in the City of Fountains, claimed by a hometown rookie sensation. Evan Glass, a Kansas City native playing in his first ever Nino Memorial, shot a stellar 74 at spacious Shoal Creek to win the ninth version of the annual late spring classic.
This year's edition of the storied tournament lacked the controversy seen in 2007, when a tie - plus ambiguity in the rules - led to a split title. In 2008, the official regulations were clear: A draw would be settled by putt-putt. Though a mini-golf course was spotted on the way home, it was hardly needed. Glass - buoyed by booming drives and a serviceable short game - led from the first swing to the final pin.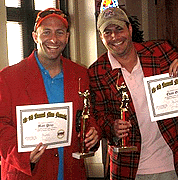 Still, NMIX was not without its share of intrigue. Glass' partner, Kansas City transplant Matt Price, was part of the duo in name only - several sources spotted him sleeping in the cart. Neither Price nor Glass are members of the golf league, which must be rectified if the pair are to keep their championship jackets. Runners-up Tim "Toolman" Boyer (a veteran Nino Memorial golfer) and Bryan "Carlito's Way" Sanger (first-timer) shot a sturdy 76, and may have done even better if it weren't for the unconventional caddies employed by the other team in their pairing, Dr. Jeff "Smailz" Small and Tim Spiegelglass. Sufficed to say the caddies offered a compelling strategy in the rough. Getting the best-effort award was Paul Hollander, who re-routed a flight so that he could join partner Jake "Snake" Lampert at Shoal.
On the opposite end of the spectrum was Marc Arbesman, who came down with a late case of the flu (whipped fever?), forcing an unusual three-man team of Jake Wagman, Phil "ChiP" Ruben and Jaeson "Nino" Becker, the stellar organizer and eponymous founder of the tournament. Regrettably, personal reasons kept tournament favorite Dave "Dusty" Hoffman from playing this year.
Of course, Nino Memorial is about far more than just golf. Many folks will take away as their fondest memories the activities that went on beyond the greens. Friday evening found the crew at Jack Stack Barbecue on the Plaza, where a mix-up over french fries worked in our favor. Later, participants visited the city's new Power and Light entertainment district, before seeking refreshment and repairing to "temptations" elsewhere.
The Saturday evening itinerary had initially included a trip to Kauffman Stadium, but, with the exception of Sanger and Toolman, golfers were left too drained by the sun to see the Royals defeat C.C. Sabathia and the Cleveland Indians. Resting paid off later, however, when our good friend Barbie made her annual post-link pilgrimage to the Nino Memorial. Though Barbie aims to please, her employees don't always ascribe to her mantra of customer service. At least this lesson learned: Those in the skin business should tread lightly when applying a spouse's name to their epidermis. Marriages may not be forever, but tattoos are.
The late-night entertainment soon gave way to the favorite Nino Memorial parlor game - picking a spot for next year, the much-anticipated NMX. Will it be a drive to Georgia? A quick flight to north Florida? A visit to San Diego - or even Sin City? Could the tournament head across the pond to Amsterdam for the ultimate golf getaway? Wherever it is, we'll see you there.
jw