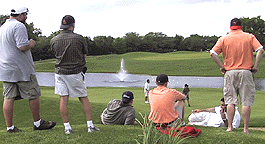 Saturday, May 29, 2004 at The Golf Club in Wentzville Wentzville, Missouri.
Nino Memorial V began out of sure chaos. The morning after Dusty's bachelor party? Who plans this crap? As the players pulled up to the course, all were weary, and we're not just talking about the fugly polos Toolman and Dusty were curing our eyes with. The players all paid their fee and staggered to the putting green in a less than stellar manner. Tired, crabby, and dealing with the Wentzville humidity, the day was set for something craptacular to emerge. That was evident when Scott Chelist showed up the to putting green with only 2 balls to practice with.
The great story of the day had to do with the first foursome to tee off. Much had been written about the team of Jonboy and Chelist. Much like a hot rookie in a fantasy draft, many dollars were laid out throughout the gambling community on this duo. They were deemed likely to pull off an upset win and take the red jackets from the returning champs, Dusty and Toolman.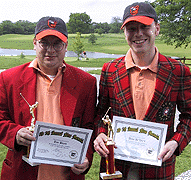 No one believed that anyone else really had a chance. I mean, please….Nino and Smailz played like, well, Nino and Smailz The only hope they had was that the good doctor could help keep pace. However, there was very little motivation due to the fact that they were playing against Dutch and Mariam who had the same chances of winning as catching a fish in Tillis Park. For crying out loud, Dutch and Nino shot 103 last year, the lowest in Nino Memorial history, and not a single drive, putt, chip or wedge was used from Dutch's game. As for Twan and Gus, well, at least Gus looked (and I only mean "looked") like a golfer. While Twan was doing his best at trying to stay cool while shanking balls left and right, his game eventually came through. Gus, however, was not strong enough to carry the load, and while the grass was green, the grass was green, which didn't seem to help any team. But the real shocker duo was the tandom of rookies Ben Sturtz and Robbie Mentle. This dynamic duo shot a round that could have easily won any given year, yet came up short against Toolman and Dusty's Nino Memorial all-time lowest score, which was recorded 30 minutes prior. Though there was some pre-hype towards Sturtz's game, no one believed it since it came out of Dusty's piehole. As for Robbie, how much of a chance could one give a guy who willingly chose to be a member of the Hoffman clan?
The first hole of the first foursome proved to demonstrate just how painful of a day it would be for Jonboy and Chelist. The team kept all of Jonboy's strokes, and he eventually landed a 15 foot put for a birdie on the first hole. And then it happened. Toolman Tim sank an equally impressive putt to also birdie the hole. The day was over with after that putt sank, for Dusty and Toolman played with shear cockiness and determination. Every time Jonboy and Chelist pulled close or had a chance to pick up a stroke, either Dusty or Toolman would sink a monster putt. It was a long day for Jonboy who earned a lot of community service hours playing with Chelist, for the latter was of little help in the beginning. By the time Chelist found his shot, Jonboy's had already taken residence at the burger stand at the 9th hole for the rest of the afternoon.
It was a terrific victory for Toolman and Dusty. They were simply amazing. Rarely do we ever get an opportunity to witness the same type of greatness laid out by the two astonishing golfers. We all should look forward to next year. Vegas? Foxwoods? Portland? Los Angeles? Atlantic City (please God no). Wherever it is, I'm sure that Dusty and Toolman will have a cheesy homo-rific outfit to wear with their red jackets. A three peat is almost assured.
sc