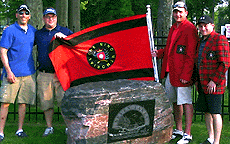 Saturday, June 4, 2011 at Seven Lakes Golf Course, Windsor, Ontario, Canada.
The Nino Memorial went international for the first time this year - heading across the border with our neighbors to the North, Canada. Culture shock struck the four participants in this year's tourney (Jaeson "Nino" Becker, Tim "Eagleglass" Speigelglass, Jeff "Smailz" Small and Tim "Toolman" Boyer) as they discovered that Windsor, Ontario is inhabited primarily by three grougs: 1) Ugly Canadians; 2) 18 years looking to drink legally; and 3) Eastern European women.


The weekend got off to a great start on Thursday with a stop for 18 holes of golf at TPC Michigan before designated driver Smailz piloted the Chrysler Town and Country across the border. Smailz's driving left something to be desired, as the riders in the T&C routinely felt their lives at risk, but the van was able to navigate through the "Tunnel to Canada" and to the lovely Holiday Inn Windsor, the hotel host for NMXII.

The run up to the tourney consisted of a day and two nights of golfing, eating, drinking "Canadians," cavorting with the locals and the transplants from Eastern Europe, and, for Eagleglass, about thirty minutes hanging out on the street waiting for a new friend he met at a local pizzeria. What NMXII lacked in attendance it more than made up for in the rollicking good time had by all - which included a total of 288 holes of golf (including 90 holes each by Eagleglass and Toolman).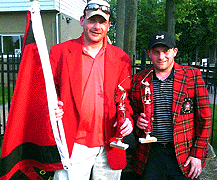 Finally Saturday rolled around and it was time for the NM itself. This NM marked a first - the first time that every participant in the event was a former NM Champion. The team of Toolman and Nino also set a record as the team with the most ever prior NM titles at 8. Based on the play of the competitors the oddsmakers had team Toolman/Nino as the underdogs, especially since they were facing the defending champions. Due to this underdog status there was a heavy push throughout the weekend to make the NM a "match play" event - however the competitors teed off on Saturday following the classic "stroke play" rules.

Alas, it would not have mattered what format was used because the team of Eagleglass/Smailz proved unstoppable. From the first tee they played great team golf, consistently picking up each other's bad shots throughout the day. Team Toolman/Nino tried to hang in but could not, and after 18 holes had suffered a defeat of 76-83. After a healthy debate, all four competitors agreed to play an additional 18 holes, marking another NM first - the first 36 hole tournament. But even with the extra holes the deficit proved too much, and the team of Eagleglass/Smailz were able to defend their championship and take the jackets with a total score of 155-170.

So what lessons can we take away from this NM? Perhaps Smailz summarized it best: "1: a Canadian dollar is a coin not paper and it is called a loony cause there is a frigging duck (loon) on the back. Number 2: A 5 dollar bill (it's blue) in Canada has fucking hockey and sledding in it. We have Abe Lincoln; maybe if he was riding a sled ours would be cool too. And 3: never go to canada and order a molson thinking u are a stud for drinking Canadian beer. The waitress will roll her eyes, call u fucking Americans and tell u in the future to order a Canadian." Wise words from the good doctor. We can only hope to learn as much in future years.

tb