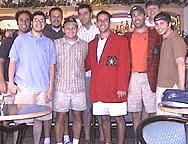 Sunday, May 26, 2002 at Black Mountain Las Vegas, Nevada.
This is Ken Venturi, and I'm reporting live from AJ Abram's hotel bathroom. Jesus Christ, is this shit good; but I digress.
On Memorial Day Weekend 2002, this country witnessed the finest display of golf in amateur history. Though the outcome was seemingly predetermined, those who traveled the road to the championship will reflect upon the weekend for years to come.
The teams were as follows: Nino and Mike "I love NYC" Traub(io) (76) paired with Pankowitz and Dr. Smailz (95); and in the leading five-some, Denmark and Dusty (89) squared off against Adam "I love 8th grade chicks" Schweizer and AJ (100), accompanied by the dark horse rookie, Plumber (189). As reflected in the scores, Nino and Traubio had no competition. But that's the way the rest of the competitors wanted it. I mean, really, would you want to wear Mike Traub's clothing? Absent from the field, was Jake "the snake" Lampert (contracted undisclosed rash while in contact with individuals from THE GIRLS OF GLITTER GULCH).
Unfortunately, as with most modern sporting events, poor sportsmanship was rampant. Repeatedly, Group 2's Eric Pankowski could not refrain from the erratic, and frequently dangerous, tossing of the 5-iron. Warned two times, he was finally ejected from the clubhouse following his disgust at the receipt of Nino's lackluster consolation prize. Witnesses Saturday reported similar behavior at Circus-Circus' mini-golf venue. Although unconfirmed, nearby indigent Mexicans reported post-traumatic shock following the sight of a pin from the 14th hole flying and then landing in their proximity. No other injuries were reported.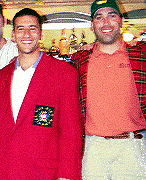 On a more positive note, Andy Salsman, the lone rookie, put on an impressive showing. On the par-3, 12th hole at the lovely Blackmountain resort course, the greenhorn narrowly missed a putt for birdie that was subsequently tapped in for par. He is currently the odds-on-favorite to be part of the winning squad in 2003.
Finally, although this past week was my final PGA event, the true memories that remain in my fading life will find their source in the event today known as the Nino Memorial. No event comes close in so much as class and superiority are concerned. So with this, I bid adieu.
dh