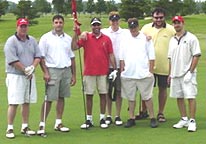 Sunday, May 25, 2003 at Cottonwoods Tunica, Mississippi.
"Roger that - Over"
This year's Nino Memorial finally saw the defeat of the three time defending champions - Michael Traub and Jaeson Becker. Those that participated were as follows: Aaron Vickar and Scott Chelist; David Hoffman and Tim Boyer; and last and certainly least Jaeson Becker and his new partner Craig Richason. Rodney Niles and Carl Greathouse also participated in the weekend festivities, although they were disqualified from the tournament itself as they actually possessed legitimate golfing skills and ability.
Controversy was lacking throughout the tournament up until the 18th hole. Both video tape as well as eyewitness testimony irrefutably show that a particular team (not the winning team, nor the last place team) altered their score. When questioned about the incident, the particular individual who committed the scoring violation wholeheartedly denied the accusation, even in the face of the visual and testimonial evidence. In the end, the Nino Memorial officials who ruled on the incident chose not to disqualify the team as it was irrelevant to the tournament's outcome. Nonetheless, those same league officials are committed to teaching future participants of the tournament regarding both the official scoring system and the corresponding code of ethics required due to the lack of televised coverage.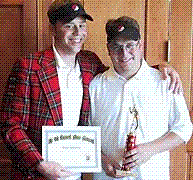 Although the aforementioned incident somewhat tarnished the day, the champions remained unfazed as they accepted their trophies and prized plaid and red jackets at the Clubhouse. The highlights of their round were numerous. On the second par three on the front nine, after Boyer hooked his drive into the water the pressure was on Dave Hoffman, and boy did he come through. With a five-iron, he hit directly over two sand traps, landing the ball within 13 feet of the cup. Despite a few additional moments of glory by Hoffman, Boyer's distance, from both the tee and with his fairway woods stole the show. On the par-five 17th, Boyer's second shot landed nearly hole high, culminating in a birdie for the dynamic tandem. In the end, the team won by 5 strokes. When asked about their chances for a repeat in 2004, both just laughed, saying it would be another easy win next year.
The final rundown of scores is as follows:
Hoffman/Boyer - 81
Vickar/Chelist - 86(although Chelist says 89)
Richason/Becker - 103 (not too shabby for Nino without Traubio present)
Rodney Niles - 78
Carl Greathouse - 83
dh