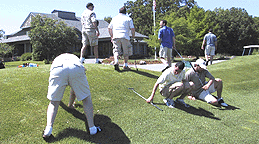 Saturday, May 28, 2005 at Innsbrook Resort Golf Course Wright City, Missouri.
There is much to detail about the Nino Memorial Part VI, and little of it has to do with the actual golf tournament. However, since this is a public site, all I can say about Friday evening is, why the hell did Lugar and his pungent self need to be walking around in that wife beater? Was that the reason Jonboy, Chelist and Dutch left the proceedings in order to go night fishing? "That may have something to do with it," said an embarrassed Jonboy. "But we also wanted to get in touch with the cosmic balance of the universe." Sure, one could dwell on and on about the ghastly image of Lugar upstairs or of Lugar downstairs or of Lugar close-talking everyone and causing them to vomit, but the kid could play some cards!
The tournament was a very well played and well-balanced competition. So much so that there was much scuttling and quarreling before the match was ever to be played. Nino, having once been a three-time champion himself, could not allow himself to be in last place again, so he dumped Dutch as his partner and called upon the services of Denmark. This proved to be both beneficial and harmful to Nino. While he did finish 2nd in the tournament, Dutch did run over his foot with his SUV.
Another controversy arose when Toolman and Dusty, the two-time champs, wanted to mix up the foursomes. Eventually they got their wish, but by creating some bad voodoo before the match was even to begin, that same bad energy may have come back to bite them hard in the groin. In fact, much to the delight of Denmark (how long did he store up that wicked tirade?) as witnessed on the 18th hole, it most certainly did.
Jonboy and Chelist began the tournament looking to upset the champs by hanging around long enough for their two opponents to choke on their own passive-aggressive mind games. Down two strokes, the two found their stride by pulling a par out of their asses while Toolman and Dusty double bogied. Eventually, they increased their lead by three strokes, and it was over. "Next year, we'll actually get some sleep," said a despondent Toolman after the tournament.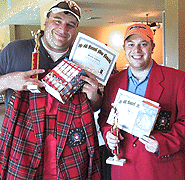 Jonboy and Chelist's victory was not the only story of the day. Nino and Denmark, though thought long out of it and without a chance, finished the day in second place ahead of Toolman and Dusty, again, much to the delight of Denmark (I mean, was that tirade even necessary?). B-Lyss and Noodles came in third staying the course despite having to play with Iken's cockiness and Lugar's degeneracy. And Gus and Dutch rounded out the round with a score so high, that NORML decided to fight for their rights to exist. It wasn't all that bad for Dutch, who won the NMVI fishing tournament for the second straight time.
A great day of golf! The only sad thing was the god-awful lunch that we had to pay ten extra dollars for and the missing money that was supposed to go to the champs; at least that's what Dusty said the night before. When reached for comment, Dusty could only say, "I have a rehearsal dinner to go to."

sc