Welcome To The Official Site Of
THE NINO MEMORIAL

Founded on May 29, 2000

"Only The Best Wear Tartan"
The Nino Memorial has been a tradition since May 29, 2000. That year, 6 members of Nino's Fantasy Golf League got together to play 18 holes at Chesterfield Golf Course in Chesterfield, MO. Since the inaugural year, members from all over the country have taken part in this yearly tradition.

2001 (NMII) debuted a new golf course (Forest Park Golf Course in St. Louis, MO) as well as the debut of the Tartan Jacket. Like the Masters, the champions of The Nino Memorial vie for these coveted trophies.

2002 (NMIII) was the first year that The Nino Memorial left the fair city of St. Louis. As you can imagine, it was also the first time that The Nino Memorial became a weekend long event. Players traveled to Las Vegas, Nevada to spend their Memorial Day weekend in the pool at Treasure Island, on the fairways at Black Mountain, and at the tables at O'sheas.

2003 (NMIV) was the inaugural year of The Nino Memorial Fishing Tournament. Though Lake Tunica was being ravished by a tumultuous drought, combatants for the Golden Rod did manage to find a dam where there appeared to be fish. Craig Richason was the only seaman that was successful.

2006 (NMVII) appears to be a year of many firsts. The first time The Nino Memorial will be played on a weekend other than Memorial Day weekend. The first time we have played on a course that we've already played on before, let alone in back-to-back years. And the year that the Hall Of Tartan had its unveiling.

2009 (NMX) was the debut of the Nino Memorial Flag, honoring 10 years of greatness and competition. It was also the year that the Golden 7 Iron and Golden Putter were awarded to the winners of the Eagleglass Skills Competition.

2011 (NMXII) was another loaded year of firsts. The first Nino Memorial played on foreign soil (Windsor, Ontario, Canada). The first Nino Memorial where every participant was a former champion. The first Nino Memorial that had a 36 hole championship.

2016 (NMXVII) was the debut of the highly anticipated Decader jackets.
| | |
| --- | --- |
| | NINO MEMORIAL RULES, REGULATIONS, & GUIDELINES |
| | |
| 1: | The format of play is a two-man, stroke play, best ball competition. |
| 2: | The maximum score on any hole is double par. |
| 3: | Play ready golf. Maintain a reasonable pace of play. |
| 4: | There are absolutely no mulligans, even by agreement of two poor teams in a foursome out on the course where no one would otherwise be the wiser.. |
| 5: | You may play any shot, excluding putts, from within one (1) club length of where the ball to be played lies, not closer to the hole. All putts are to be hit from the location where the best ball lies. |
| 6: | If your best ball goes into the woods, water, or you cannot find your ball, you must take your next shot within two (2) club lengths of the closest spot to where your best ball exited the playing field (or was last seen). You must take a one (1) stroke penalty. |
| 7: | If your best shot is in a sand trap, both subsequent shots must be hit from the sand trap. You may not hit either shot from the grass, even if a grassy area is within one club length. |
| 8: | There are absolutely no gimmies. Teams must putt out all holes, unless a team reaches double par. |
| 9: | If you cannot find either team member's shot, then you must take a penalty stroke. The other team in the group shall approve of the location of the next shot, if the location where the best ball exited play is at all in dispute. |
| 10: | In the event of a tie, the winning team will be decided via an 18-hole putt-putt contest. The lowest combined score of the two teams wins. In the event of a second tie, the tournament will be declared a draw. |
| 11: | At least one (1) drive must be used from each player per 9 holes. (Added for NMXI - 2010) |
| 12: | Random foursomes will be picked out of a hat the morning of the tournament, at the 1st tee box. (Added for NMXI - 2010) |
| 13: | Hot Carl Rule: No two players of "elite ability" shall be paired together for tournament play. (Added for NMXVI - 2015) Eliminated as of 2019. (Also see no. 16 below). |
| 14: | Participants in the Nino Memorial who do not stick around for the award ceremony that is held immediately afterward the completion of play, at the discretion of Nino, may forfeit any prizes, trophies, jackets and awards for that year. This includes, but is not limited to, the coveted golden douche. (Added for NMXVI - 2016) |
| 15: | If the scramble is planned for the greater St. Louis metropolitan area and a rainout is declared, the event will be rescheduled for an alternative Saturday or Sunday within four (4) weeks of the original date. The alternate date is to be set solely at the discretion of Nino. (Added for NMXVII - 2017) |
| 16: | Teams will be picked out of a hat for increased competitiveness, thus negating the Hot Carl Rule (see no. 13 above). (Added for NMXVIII - 2019) |
| 17: | In the event there is a 3-person team, one player from that team must sit out the remainder of the round once the ball is on the green or fringe. Thus, each player from that team must sit out every 3 holes and that order must be declared before the round starts. (Added for NMXXI - 2023) |
| 18: | If the biographer from the prior year's NM is one of the defending champions and hasn't written the story of the prior year's NM before 11:59 PM Central on the day of the current NM, then the biographer's title, records and contribution from the prior year will be stricken from the record book. (Added for NMXXI - 2023) |
| 19: | All participants of the Nino Memorial must be at least 21 years of age. (Added for NMXXI - 2023) |
| | |
| | |
EAGLEGLASS SKILLS COMPETITION
| | |
| --- | --- |
| | Long Drive Contest on #3 |
| A: | Must be in the fairway. |
| B: | Move the stake next to your ball if you are longer. |
| C: | Mark your name on the card. |
| D: | Last group please collect the stake. |
| E: | There will only be one winner. |
| | |
| --- | --- |
| | Closest to the Pin Contest on #5 |
| A: | Must be on the green. |
| B: | Please measure and put down your distance in feet and inches. |
| C: | Please remove measuring device from green and set back where it was placed. |
| D: | Last group please collect the stake and measuring device. |
| E: | The ball that is closest to pin #6 will be the winner of the contest. |
| F: | There will only be one winner. |
| | |
| | |
NMXXI(2023)
NMXXI - Alton, IL - July 8, 2023
NMXX(2022)
NMXX - Wentzville, MO - October 1, 2022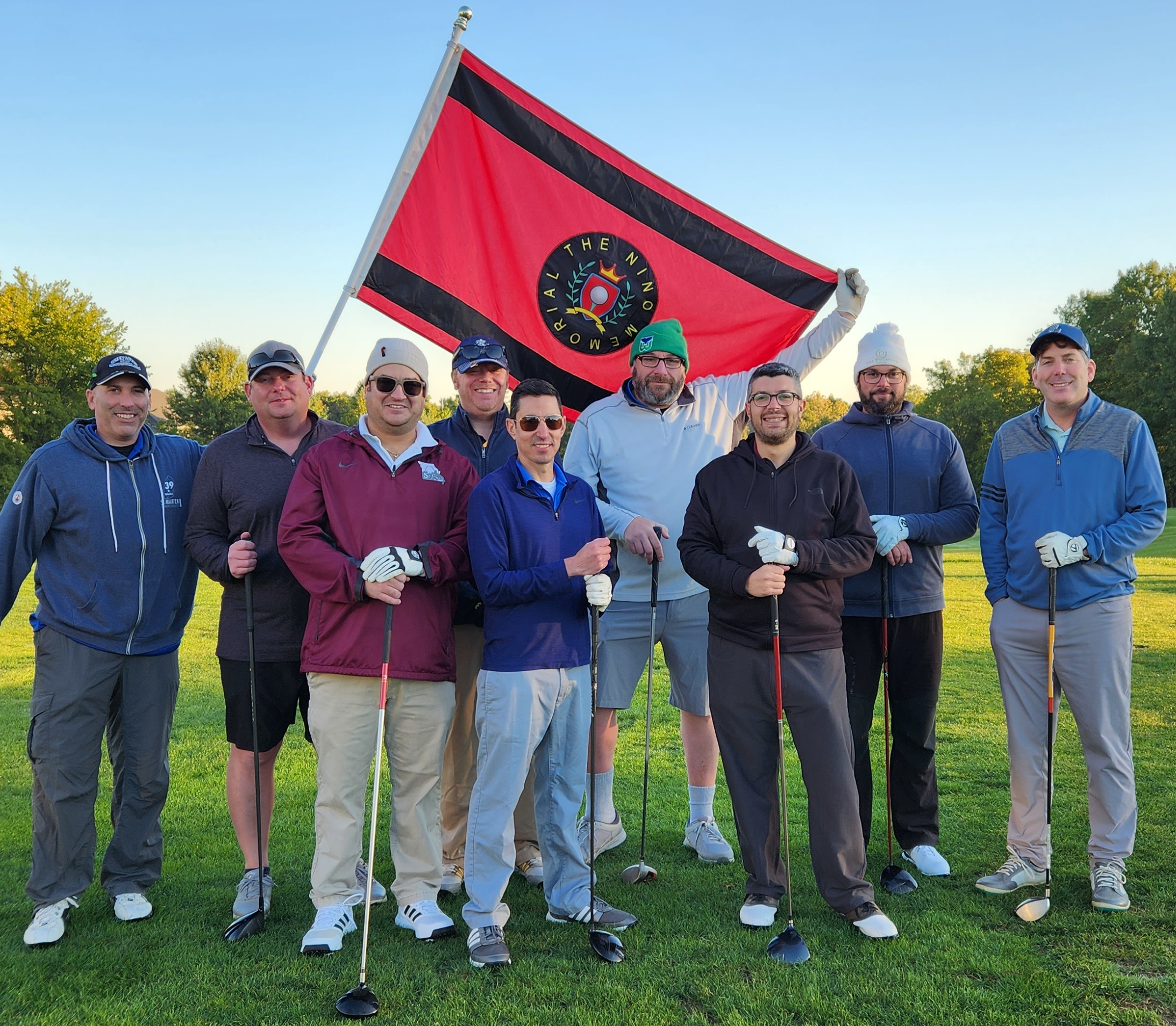 Saturday, October 1, 2022 at Bear Creek Golf Club, Wentzville, MO
The 20th annual Nino Memorial was held at Bear Creek Golf Club in Wentzville, Missouri on October 1, 2022. For the first time in history, a three-man team took home the title. The winning squad was comprised of tournament veterans David "Dusty" Hoffman, Brett "Noodles" Bunsick, and AJ "Jamal" Abrams. The winning team shot an 80.

In second place with an 83 was the duo of Matt Berman and longtime participant Scott "Maynard" Chelist. Not far behind was third-place team Jaeson "Nino" Becker and Eric "Swilly" Swillinger. Bringing up the rear was Phil "Chip" Ruben and Dane Kearns with a 105. Unfortunately for Dane, he suffered an ankle fracture on the back nine which ended his quest for glory in 2022.
NMXIX(2020)

Saturday, August 29, 2020 at The Quarry at Crystal Springs Golf Course Maryland Heights, Missouri
Yet another Nino Memorial is in the books, and Nino is still with us. Go figure. The 2020 pandemic-affected event was held in the Missouri River Bottoms at the stunning Quarry at Crystal Springs golf course. Despite various planning challenges brought on by both the virus and Judge Toolman's classic scheduling snafus, this was the second most well-attended event since Dusty's first (or was it his second?) bachelor party at the Club of Wentzville. Sixteen (16) competitors were originally scheduled to golf in the 19th annual event, but fifteen (15) ultimately attended after Andy "Don't Call Me Shirley" Spector dropped out, unannounced, on the morning of the event. He has still not been heard from as of the submission of this piece to the editor. As a result, Eric Swillinger, Scott "Maynard" Chelist, and Jaeson "Nino" Becker joined together to make a three-some. As Swilly is very much into threesomes, everything worked out quite nicely for all concerned parties.


NMXVIII(2019)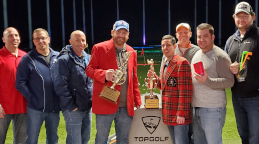 Saturday, December 7, 2019 at TOPGOLF Chesterfield, Missouri
The latest edition of the Nino Memorial, which took place on December 7, 2019, was a tournament for the ages. The participants chose an alternative venue for this year's rendition of the event - Topgolf. The target-style play grew sloppy at times due to ripples in the fabric of space-time.
NMXVII(2016)
Saturday, August 20, 2016 at The Woodlands Golf Course Godfrey, Illinois
On Saturday, August 20, 2016, a group of intrepid young men ventured to the far off land of Godfrey, Illinois, to compete in an event that has become legendary in it's ridiculousness – the NINO MEMORIAL. On this date, which marked the 17th playing of the tournament, six players arrived ready to play for the jackets, including four former champions with a multitude of honors between them. And, of course, Nino brought his ringer.


NMXVI(2015)
Saturday, July 11, 2015 at Rolling Hill Golf Course Alton, Illinois
Nino Memorial XVI took place on the hallowed grounds of Rolling Hills Golf Course in Godfrey, Illinois on July 11, 2015. Tim "Eagleglass" Spiegelglass was gloating so much about his Decader award that he apparently forgot he needed to play a solid round of golf too if he wanted another title. He was horrendous off the tee. If not for his partner Tim "Toolman" Boyer, the team wouldn't have finished in second place (77).
NMXV(2014)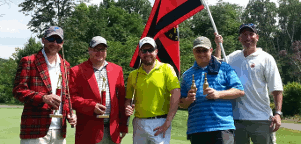 Saturday, June 21, 2014 at Quail Chase Golf Club Louisville, Kentucky
It was early on a Thursday morning when the Denali rolled up to a house in St. Louis, where three Nino Memorial stalwarts prepared for the trip to Louisville for NM 15. The NM had suffered much disarray with many former players not attending, including Denmark (who, in his defense, had indicated this was a bad weekend months prior), Smailz (who continued to tell Nino that he may be able to attend until the final week, when he simply refused to respond to Nino's texts and emails), Sanger and Cap'n (who had attended Sanger's bachelor party in NOLA the week before), and the Hoffman brothers, each of whom had committed to attend only to withdraw within 48 hours of leaving.

NMXIV(2013)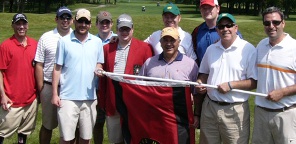 Saturday, July 20, 2013 at Brown Deer Golf Course Milwaukee, Wisconsin
NMXIV took place on July 20, 2013, in Milwaukee, Wisconsin. This year's tournament was played on one of the more challenging tracks in NM history - Brown Dear Park Golf Course. Brown Deer is the prior home of the Greater Milwaukee Open on the PGA Tour. Tiger Woods played his first professional tournament there, and even had a hole in one on the 14th Par 3. Although there were no holes-in-one on this day, the competition was fierce


NMXIII(2012)
Saturday, July 21, 2012 at Brickyard Crossing Indianapolis, Indiana
This year's Nino Memorial, the 13th annual, did not disappoint. Analysts believe it was the most competitive match in the tournament's storied, decade-plus history. We now have our first 5-pete champion (Tim Boyer) and third 4-pete champion (Dave Hoffman).


NMXII(2011)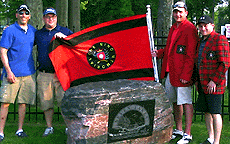 Saturday, June 4, 2011 at Seven Lakes Golf Course, Windsor, Ontario, Canada.
The Nino Memorial went international for the first time this year - heading across the border with our neighbors to the North, Canada. Culture shock struck the four participants in this year's tourney (Jaeson "Nino" Becker, Tim "Eagleglass" Speigelglass, Jeff "Smailz" Small and Tim "Toolman" Boyer) as they discovered that Windsor, Ontario is inhabited primarily by three grougs: 1) Ugly Canadians; 2) 18 years looking to drink legally; and 3) Eastern European women.


NMXI(2010)
Saturday, July 10, 2010 at Hermitage Golf Club, Nashville, TN.

Nashville, TN. - After six years of hype, Smailz and Eagleglass finally back up their promises.

It was a record-breaking 2010 for the 11th Annual Nino Memorial. This year's host city was Nashville, TN.
The team of Tim Spiegelglass and Jeff Small shattered the previous tournament low-round with an even par 72, and took home the coveted title with accompanying tartan jackets.


NMX(2009)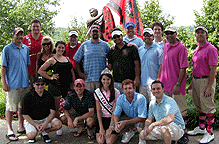 Saturday, June 13, 2009 aT Covered Bridge Golf Club, Louisville, KY
Louisville, Ky. - Two of St. Louis' finest prosecutors laid down the law at Nino Memorial X.

Tim "Toolman" Boyer and Bryan "Carlito's Way" Sanger, who make their living trying bad guys in the city, brought their own brand of fairway justice to the landmark tenth year of the annual tournament.
NMIX(2008)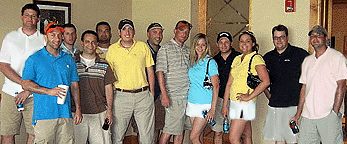 Saturday, May 31, 2008 at Shoal Creek Golf Course Kansas City, MO
KANSAS CITY, Mo. - The tartan arrived here on Friday a St. Louis tradition nearing a decade of excellence. By Sunday, the Nino Memorial trophy was just another monument in the City of Fountains, claimed by a hometown rookie sensation. Evan Glass, a Kansas City native playing in his first ever Nino Memorial, shot a stellar 74 at spacious Shoal Creek to win the ninth version of the annual late spring classic.
NMVIII(2007)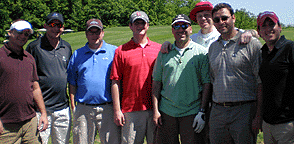 Saturday, May 19, 2007 at Seasons Ridge Golf Course The Lake Ozarks, MO


Nino Memorial VIII can only be summed up with one word - controversy. Never before has a weekend of golf been filled with such controversy. For the first time in Nino Memorial history, the golf tournament of champions has culminated in a tie.
NMVII(2006)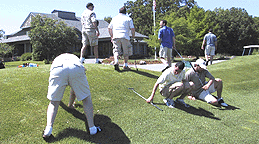 Saturday, June 3, 2006 at Innsbrook Resort Golf Course Wright City, Missouri.
Nino Memorial 7, as with the prior Nino Memorial weekends, was a rousing success. For the first time, the event was held at the same place (Innsbrook) as the year prior. Although plans have been made for an out of town NM8 to mix things up, Innsbrook was the perfect setting for golf, comradery, and debauchery.
NMVI(2005)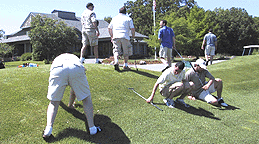 Saturday, May 28, 2005 at Innsbrook Resort Golf Course Wright City, Missouri.
There is much to detail about the Nino Memorial Part VI, and little of it has to do with the actual golf tournament. However, since this is a public site, all I can say about Friday evening is, why the hell did Lugar and his pungent self need to be walking around in that wife beater? Was that the reason Jonboy, Chelist and Dutch left the proceedings in order to go night fishing? "That may have something to do with it," said an embarrassed Jonboy. "But we also wanted to get in touch with the cosmic balance of the universe." Sure, one could dwell on and on about the ghastly image of Lugar upstairs or of Lugar downstairs or of Lugar close-talking everyone and causing them to vomit, but the kid could play some cards!
NMV(2004)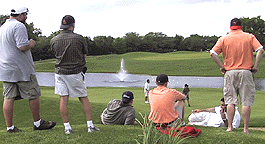 Saturday, May 29, 2004 at The Golf Club in Wentzville Wentzville, Missouri.
Nino Memorial V began out of sure chaos. The morning after Dusty's bachelor party? Who plans this crap? As the players pulled up to the course, all were weary, and we're not just talking about the fugly polos Toolman and Dusty were curing our eyes with. The players all paid their fee and staggered to the putting green in a less than stellar manner. Tired, crabby, and dealing with the Wentzville humidity, the day was set for something craptacular to emerge. That was evident when Scott Chelist showed up the to putting green with only 2 balls to practice with.
NMIV(2003)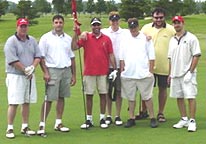 Sunday, May 25, 2003 at Cottonwoods Tunica, Mississippi.
"Roger that - Over"
This year's Nino Memorial finally saw the defeat of the three time defending champions - Michael Traub and Jaeson Becker. Those that participated were as follows: Aaron Vickar and Scott Chelist; David Hoffman and Tim Boyer; and last and certainly least Jaeson Becker and his new partner Craig Richason. Rodney Niles and Carl Greathouse also participated in the weekend festivities, although they were disqualified from the tournament itself as they actually possessed legitimate golfing skills and ability.
NMIII(2002)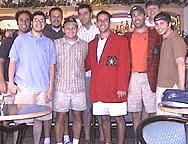 Sunday, May 26, 2002 at Black Mountain Las Vegas, Nevada.
This is Ken Venturi, and I'm reporting live from AJ Abram's hotel bathroom. Jesus Christ, is this shit good; but I digress.
On Memorial Day Weekend 2002, this country witnessed the finest display of golf in amateur history. Though the outcome was seemingly predetermined, those who traveled the road to the championship will reflect upon the weekend for years to come.
NMII(2001)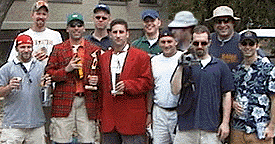 Sunday, May 27, 2001 at Forest Park Golf Course St. Louis, Missouri.
(AP) The most exciting 6 ½ hours in sports - that is what is now known as the Nino Memorial. The teams. The teams were comprised of several individuals with varying golf abilities. Starting at the bottom, there was Luger (a.k.a. Scott Masin) and David Duval (a.k.a. Opey a.k.a. Daniel Wiggins); then there was Brad Gross and Joe Glynias (a.k.a. Glass Joe); followed by Jeff Small (a.k.a. Smailz) and Adam Schweizer (a.k.a. Jeff's future brother-in-law); Bart Berry and Scott Chelist (a.k.a. Bubba); Jaeson Becker (a.k.a. Nino) and Michael Traub; and finally Josh Polsky (a.k.a. Twan) and Dave Hoffman (a.k.a. Dusty). The golfing began this fateful Sunday at 8:45 a.m.
NMI(2000)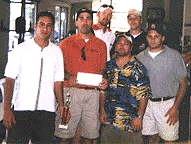 Monday, May 29, 2000 at The Chesterfield Golf Course.
(AP) While many across America were leisurely enjoying their days off with barbecues and summer pool openings, six young men ventured out to the beautiful and sprawling Chesterfield Golf Course for the First Annual Nino Memorial. Three teams competed in a scramble tournament: Opey aka David Duval and Luger AKA Scott Masin, Smailz AKA Jeff Small and Dusty AKA David Hoffman, and Traubio AKA Michael Traub and Nino AKA Jaeson Becker. The competition was fierce, the tobacco use was even fiercer.
Players of The Nino Memorial (55)
The Players

Visits

# Attended:

6

12

10

8

12

12

18

8

11

14

10

4

12

11

5

8

6

8

15

9

11

Abrams,
AJ (1X)

2

X

X

4th (100)

X

X

X

X

X

X

X

X

X

X

X

X

X

X

X

X

X

Arbesman,
Marc

3

X

X

X

X

X

X

8th
(119)

4th
(106)

X

7th
(105)

X

X

X

X

X

X

X

X

X

X

X

Becker,
Jaeson (7X)

21

3rd
(103)

T-4th
(98)

2nd
(79)

T-5th
(88)

4th
(91)

4th
(77)

3rd
(76)

2nd
83 (170)

5th
(85)

5th
(90)

2nd
(86)

4th
(256)

T-2nd
(79)

3rd
(85)

4

X

X

X

X

X

X

2nd
(76)

X

X

X

X

X

X

X

X

X

X

X

2nd
(83)

4th
(84)

Berry,
Bart

1

X

2nd
(80)

X

X

X

X

X

X

X

X

X

X

X

X

X

X

X

X

X

X

X

Boyer,
Tim (7X)

14

X

X

X

4th
(83)

3rd
(80)

2nd
(76)

2nd
(74)

2nd
83 (170)

2nd
(77)

2nd
(75)

X

X

X

X

8

X

X

X

X

X

3rd
(81)

T-5th
(88)

X

X

X

X

X

X

X

X

3rd
(79)

3rd
(90)

7th
(83)

Chelist,
Scott (2X)

8

X

2nd
(80)

X

2nd
(86)

3rd
(84)

X

X

X

X

X

X

X

X

X

X

X

T-2nd
(79)

2nd
(83)

T-5th
(85)

Ellis,
Chad

3

X

X

X

X

X

X

X

X

X

X

X

X

X

X

X

X

X

X

X

X

4th
(84)

Galkin,
Dan

3

X

X

X

X

T-4th
(98)

6th
(99)

T-5th
(88)

X

X

X

X

X

X

X

X

X

X

X

X

X

X

Glass,
Evan (2X)

3

X

X

X

X

X

X

X

X

X

X

X

X

X

X

X

X

X

X

Glynias,
Joe

1

X

3rd
(81)

X

X

X

X

X

X

X

X

X

X

X

X

X

X

X

X

X

X

X

Goldenhersh,
Todd

1

X

X

X

X

X

X

X

X

X

7th
(105)

X

X

X

X

X

X

X

X

X

X

X

Greathouse,
Carl

1

X

X

X

DNQ

X

X

X

X

X

X

X

X

X

X

X

X

X

X

X

X

X

Gross,
Charles

3

X

3rd
(81)

X

X

X

X

X

X

X

4th
(77)

3rd
(76)

X

X

X

X

X

X

X

X

X

X

Hargraves,
Joe

1

X

X

X

X

X

X

X

X

X

X

X

X

X

4th
(87)

X

X

X

X

X

X

X

Hoffman,
David (4X)

17

2nd
(86)

5th
(98)

2nd
(89)

4th
(83)

3rd
(80)

X

6th
(90)

4th
(79)

X

3rd
(83)

X

4th
(86)

X

3rd
(306)

T-4th
(80)

T-5th
(85)

Hoffman,
Jon (2X)

4

X

X

X

X

3rd
(84)

X

X

X

X

X

X

X

X

X

X

X

T-2nd
(79)

X

X

Hoffman,
Ken

1

X

X

X

X

X

X

X

X

X

X

X

X

X

3rd
(83)

X

X

X

X

X

X

X

Hollander,
Paul

1

X

X

X

X

X

X

X

X

5th
(97)

X

X

X

X

X

X

X

X

X

X

X

X

Iken,
Corey

2

X

X

X

X

X

5th
(92)

4th
(86)

X

X

X

X

X

X

X

X

X

X

X

X

X

X

Kearns,
Dane

2

X

X

X

X

X

X

X

X

X

X

X

X

X

X

X

X

X

X

T-2nd
(79)

4th
(105)

X

Klaven,
Jeremy

2

X

X

X

X

X

X

X

X

X

X

X

X

X

X

X

X

X

4th
(256)

X

X

T-5th
(85)

Lampert,
Jake

2

X

X

Scratch

X

X

X

X

X

5th
(97)

X

X

X

X

X

X

X

X

X

X

X

X

Lucas,
Kevin

4

X

X

X

X

X

X

X

X

X

5th
(82)

5th
(81)

X

4th
(78)

X

2nd
(86)

X

X

X

X

X

X

Lyss,
Brian

1

X

X

X

X

X

3rd
(81)

X

X

X

X

X

X

X

X

X

X

X

X

X

X

X

Mariam,
Craig

1

X

X

X

X

6th
(99)

X

X

X

X

X

X

X

X

X

X

X

X

X

X

X

X

Masin,
Scott

4

3rd
(94)

6th
(101)

X

X

X

5th
(92)

4th
(88)

X

X

X

X

X

X

X

X

X

X

X

X

X

X

Mentle,
Josh

2

X

X

X

X

X

X

X

X

X

5th
(82)

X

X

4th
(78)

X

X

X

X

X

X

X

X

Mentle,
Robbie

5

X

X

X

X

2nd
(83)

X

T-5th
(88)

X

X

X

X

X

T-2nd
(74)

X

X

3rd
(79)

X

X

6th
(82)

X

X

Niles,
Rodney

1

X

X

X

DNQ

X

X

X

X

X

X

X

X

X

X

X

X

X

X

X

X

X

Oberman,
Brian

2

X

X

X

X

X

X

X

X

X

X

X

X

X

X

X

4th
(86)

X

X

7th
(83)

X

X

Oler,
Jon

1

X

X

X

X

X

X

X

X

X

X

X

X

X

Scratch

X

X

X

X

X

X

X

Pankowski,
Eric

1

X

X

3rd
(95)

X

X

X

X

X

X

X

X

X

X

X

X

X

X

X

X

X

X

Polsky,
Josh

3

X

5th
(98)

X

X

T-4th
(98)

X

DNQ

X

X

X

X

X

X

X

X

X

X

X

X

X

X

Price,
Matt (1X)

2

X

X

X

X

X

X

X

X

X

X

X

X

X

X

X

X

2nd
(337)

X

X

X

Richason,
Craig

3

X

X

X

3rd
(103)

6th
(99)

6th
(99)

X

X

X

X

X

X

X

X

X

X

X

X

X

X

X

Robbins,
Stan

1

X

X

X

X

X

X

X

X

X

X

X

X

X

5th
(90)

X

X

X

X

X

X

X

Ruben,
Andy

2

X

X

X

X

X

X

X

X

X

X

X

X

6th
(91)

X

2nd
(86)

X

X

X

X

X

X

Ruben,
Phil

10

X

X

X

X

X

X

X

3rd
(84)

4th
(91)

6th
(90)

5th
(81)

X

6th
(91)

X

X

X

3rd
(90)

3rd
(306)

T-4th
(80)

4th
(105)

3rd
(82)

Rubenstein,
Jeremy

1

X

X

X

X

X

X

8th
(119)

X

X

X

X

X

X

X

X

X

X

X

X

X

X

Salsman,
Andy

1

X

X

DNQ

X

X

X

X

X

X

X

X

X

X

X

X

X

X

X

X

X

X

Sanger,
Bryan (3X)

7

X

X

X

X

X

X

X

X

2nd
(76)

2nd
(74)

X

X

X

X

X

2nd
(337)

T-4th
(80)

X

Schweizer,
Adam

2

X

4th
(90)

4th
(100)

X

X

X

X

X

X

X

X

X

X

X

X

X

X

X

X

X

X

Small,
Jeff (2X)

10

2nd
(86)

4th
(90)

3rd
(95)

X

T-4th
(98)

X

X

X

3rd
(77)

2nd
(74)

T-2nd
(74)

X

X

X

X

X

6th
(82)

X

X

Spector,
Andy

0

X

X

X

X

X

X

X

X

X

X

X

X

X

X

X

X

X

X

X

X

X

14

X

X

X

X

X

X

2nd
(76)

3rd
(84)

3rd
(77)

2nd
(74)

T-2nd
(74)

2nd
(80)

2nd
(77)

2nd
(75)

T-4th
(80)

Sturtz,
Ben

1

X

X

X

X

2nd
(83)

X

X

X

X

X

X

X

X

X

X

X

X

X

X

X

X

Swillinger,
Eric

3

X

X

X

X

X

X

X

X

X

X

X

X

T-2nd
(74)

X

X

X

X

X

T-2nd
(79)

3rd
(85)

X

Traub,
Michael (3X)

3

X

X

X

X

X

X

X

X

X

X

X

X

X

X

X

X

X

X

Vickar,
Aaron (3X)

10

X

X

2nd
(89)

2nd
(86)

X

2nd
(79)

T-5th
(88)

X

X

4th
(79)

X

5th
(85)

2nd
(80)

X

X

X

X

X

Wagman,
Jake

4

X

X

X

X

X

X

DNQ

4th
(106)

4th
(91)

3rd
(76)

X

X

X

X

X

X

X

X

X

X

X

Weingart,
Brian

1

X

X

X

X

X

X

T-5th
(88)

X

X

X

X

X

X

X

X

X

X

X

X

X

X

Wiggins,
Dan

2

3rd
(94)

6th
(101)

X

X

X

X

X

X

X

X

X

X

X

X

X

X

X

X

X

X

X

Wright,
John

1

X

X

X

X

X

X

X

X

X

X

X

X

X

4th
(87)

X

X

X

X

X

X

X

Yeckes,
Jeff

1

X

X

X

X

X

X

X

X

X

3rd
(76)

X

X

X

X

X

X

X

X

X

X

X
RED* = Title Unofficial and or Under Investigation
Nino Memorial Themes/Logos